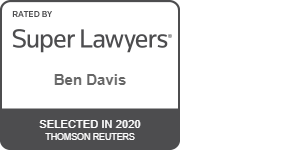 Ben Davis is proud to announce his selection to the Super Lawyers Southwest Honors List for 2020. Mr. Davis and his partner Mr. Kelin have become the go-to attorneys in New Mexico for personal injury and complex litigation. Both Super Lawyers; neither is afraid to take a case to trial if that means winning in court. Mr. Davis has a history of receiving 6 and 7 figure settlements for his clients in hard to win cases. The Davis Kelin Law Firm has become Albuquerque, New Mexico's Premier Litigation Law Firm because of Mr. Davis and Mr. Kelin's dedication to their practice and their clients over time.
Davis Kelin's selection criteria for handling a personal injury matter is very stringent. Due to the amount of time and resources put into each case, Mr. Davis is unable to take every case. In fact, Davis Kelin specializes in handling multi-million dollar case settlements in New Mexico, which few other law firms currently do.
The 2020 Super Lawyers recognition is only awarded to 5% of attorneys in the Southwest United States. Mr. Davis has seen the Davis Kelin Law Firm take on very significant and challenging cases since opening the firm in 2009. This is due to his continued excellence as a trial lawyer. The Thomas Reuters Super Lawyers recognition honors trial lawyers that have shown excellence in their profession consistently.
Mr. Davis is an expert in all personal injury matters and mass tort cases across the state of New Mexico. Join us in congratulating Mr. Davis on his continued success as one of New Mexico's very best trial lawyers. If you have a personal injury case that you would like Mr. Davis to consider, do not hesitate to reach out to our office at (505) 242-7200. Super Lawyers are the highest rated lawyers available for representation and continue to meet and exceed the level of superiority in the legal industry.