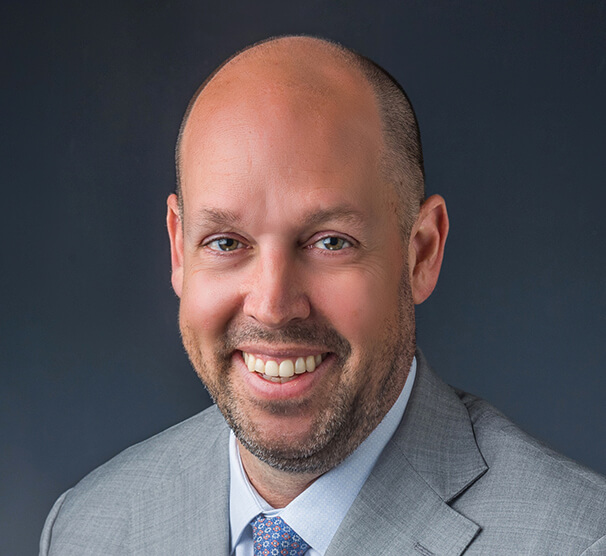 Ben Davis
Trial Attorney
Background:
I am a father, husband, and trial lawyer, but not always in that order.
I started my legal career defending very large, international corporations in New Mexico. For three and half years, I worked with some of the toughest, most aggressive lawyers in New Mexico and the country. But my heart was not in it. My values aligned with David and not Goliath. I was always on the side of the little guy, the underdog.
In late fall, my wife and I learned that we were pregnant with our first child. A few days later, I was driving to a court hearing in northwestern New Mexico. During the drive, a significant winter storm blew in and covered the highway with ice and snow. I lost control of my vehicle and I spun into the oncoming lane of traffic. At that moment, an oil well service truck was coming from the other side of the road. I thought for certain I was dead just days after learning we were having our first kid. The oil well service truck slammed into my small car. I was knocked unconscious. My car was crushed all around me. There was just a small space left—the space where I was left unconscious.
Later, I woke up; pinned inside my car. I was able to pull myself out and, miraculously, I was not significantly hurt. I took this as a sign that I was not on the right path. I needed to change. Helping big corporations save money and destroy those they injured was not my purpose. The near-death experience made me realize that I did not want my future child only knowing me as someone who helped the rich and powerful. At that moment, I decided to quit helping large corporations and help everyday people. A few months later, I founded Davis Kelin with the singular goal of helping those who have been killed or significantly injured by others' negligence and reckless actions.
That year, our son was born. As a father, I am lucky to help raise and learn from a wonderful, creative, curious boy that never ceases to amaze me. We enjoy spending a lot of time in New Mexico's and Colorado's mountains camping, hiking, and skiing. It is truly a blessing to have him in my life.
While living in Costa Rica, I was fortunate enough to meet a wonderful woman who turned into a wonderful wife, mother, and partner in life. Any success I have as a trial lawyer is only possible because of the incredible support she provides day in and day out. She keeps me grounded and focused on what is important in life.
That tells you who I am and why I am here. But you also need to know if who you are hiring is the best lawyer for your or your loved one's case. To determine that, you need a resume.
Career Overview:
I graduated from Baylor Law School in Texas in the top 20 percent of my class after clerking for a Federal Magistrate Judge in Waco. At Baylor, I was introduced to being a trial lawyer through the "boot camp" of law schools for trial lawyers. Baylor Law School was built and funded by some of the finest trial lawyers from Texas (and even one from New Mexico) to create the ultimate trial practice training grounds through its practice court program. The thrill of practice court pushed me toward trial law.
After law school, I was hired by a boutique litigation law firm that specialized in high stakes litigation and defense for large, often Fortunate 50, companies. I spent several years learning from some of the top lawyers in the state (and frankly, the country). I deposed hundreds of people during my first few years and worked on several trials. The experience helped me learn how the other side thinks and acts.
Then everything changed. My near-death experience changed my focus and energy to other people rather than large corporations. I founded Davis Law Firm within a few months of nearly losing my life. Within the first year of our new practice, the law firm was featured in the Albuquerque Journal and every local news outlet for handling a significant legal malpractice case which resulted in our client being released from prison and being paid a significant settlement for his lawyer's malpractice.
By our third year, we were featured on NBC's Dateline for the death of Scott Pierce, who tragically lost his life as a result of Albuquerque Police Department's decision to blame two innocent traveling salesmen for the murder of an elderly couple in Albuquerque's Northeast Heights.
And within six years, we had the largest jury verdict ever recorded against a property management company and condominium association that failed to follow its own procedures resulting in the tragic death of a young father in his own condominium.
Founding Davis Kelin
After years of co-counseling together and sharing office space, Zackeree Kelin and I joined forces to create Davis Kelin Law Firm, LLC. In 2023, Davis Kelin obtained the largest jury verdict for an insurance bad faith case in the State of New Mexico and one of the largest, if not the largest, verdict in Albuquerque.
As partners, we have made significant changes to New Mexico law by overturning outdated insurance case law though new insights and perspectives. This, in turn, has turned into several legal articles we wrote on insurance and other topics that have been published in the New Mexico Trial Lawyer Journal. We are often asked to speak on legal conferences in New Mexico and nationally on a variety of legal and trial topics.
We are both on the Board of Directors of the New Mexico Trial Lawyers and we both sit on several committees. I am also on the board of the New Mexico State Bar's Professional Liability and Insurance Committee and several ad hoc State Bar Committees. We have both served as special prosecutor for New Mexico's Second Judicial District. I am also a member of the American Association for Justice Leader's Forum and part of AAJ's PAC and membership drives in New Mexico.